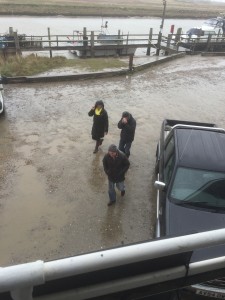 Despite the very "spring" like weather of horizontal rain and a southerly wind gusting to 40mph, 10 intrepid walkers and a few four legged friends enjoyed the inaugural Spring walk on Sunday.
After waiting for the main front to pass over, and assured by chief forecaster Alan, that the worst of the rain had passed, the walkers led by chief guide Aubrey were taken on a loop of Walberswick footpaths and lanes, before returning to the clubhouse where a roaring fire and hot bowl of soup awaited.
The next event in the calendar is the Fitting Out Supper on Saturday 11th April.